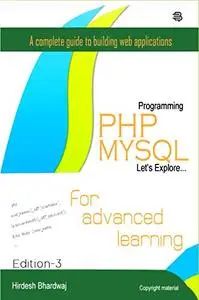 PHP Mysql For Advanced Learning, 3rd Edition
By Hirdesh Bhardwaj
English | 2021 | ASIN : B08SHTYJCS | 234 Pages | PDF | 2 MB
About Book
This is Academic Book
About Author
"Hirdesh Bhardwaj, the Founder and CEO of Webs Jyoti – Development & Training Organization is known for his excellent training and development skills.
Well known as innovator in the field of IT, he has more than 13 years of experience with the well-reputed MNCs and Institutions.
His Books are referenced & taught in NIELIT -Govt. of India, Jiwaji University Gwalior, MMYVV University, Mangalore University, J.C Bose University & Directorate of School Education Kashmir.
Hirdesh has conducted corporate training and lectures at Olam Agro, Cars 24, Nestle, Beumer Group, PGS Partner, GET Global, Process 9, Hema Engineering, National Security Guard- NSG HQ, Realistic Realtors, India Shelter Finance Corporation, Jastech Systems, National Skills Foundation of India, MB Informatics, SAP Lab India, MB Informatics, Alpine India, FIA Global, Pace Academy & Dudhi Plasters.
Our Services @ Webs Jyoti
Webs Jyoti is a professional Web development and Information Technology (IT) organization based in Gurgaon, offering web designing and Information Technology services for the global entrepreneurs.
We provide web site development services to clients across INDIA and other parts of the world. We specialize in web site design, Education Software's, e-commerce & CMS.