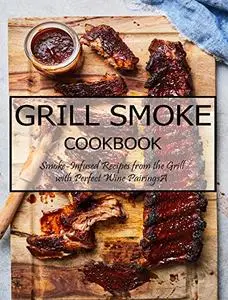 Grill Smoke Cookbook: Smoke-Infused Recipes from the Grill with Perfect Wine PairingsA
By Cora Barton
English | ASIN : B08W3HD71Q | 2021 | 480 pages | EPUB | 3.4 MB
Traeger Pellet grills have always appealed to both professional and amateur BBQers – and for good reasons. They are convenient, easy to operate, and capable of producing classic barbecue meals.Are you looking for the best way to infuse your barbecue meals with very natural woody, smoky flavor? This book is your perfect choice!By reading this book Grills & Smoker Cookbook, you will know:450+ Simple tasty recipes with photo perfect for Traeger Grills, classified in to: Grilling recipes, roasting recipes, smoking recipes, braising recipes, baking recipes, searing recipes and Marinade, Rub& SauceMore and more…Grills & Smoker Cookbook will explain all essentials about the basic components and operation of the grill. It will also reveal many delicious recipes everyone can recreate with the multi-purpose Traeger grill.