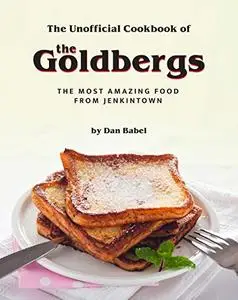 The Unofficial Cookbook of The Goldbergs: The Most Amazing Food from Jenkintown
By Dan Babel
English | ASIN : B08ZNDFQ32 | 2021 | 75 pages | EPUB | 13.8 MB
Living in Pennsylvania, the Goldberg family from the 1980s is the solid inspiration in terms of their lifestyle, particularly food. This exclusive cookbook is a special anthology of food; we would see the lifestyle of each character in the super hit series through it.
Both Murray and Beverly Goldberg, along with Erica and Barry Goldberg, go through many food moments in the sitcom. We, being food experts, couldn't resist the opportunity to chalk out a unique cookbook inspired by it.
The cookbook provides you the most authentic recipes of the most common and unique dishes. You will find loads of yummy options to feed your family and friends in an innovative way.
From Fish and Chips to Lamb and Lentil Soup, all of the recipes are full of healthy nutrients but more delicious than their restaurant counterparts. They have gone through the expert hands of our chefs, and you just got the perfect blend of ingredients and methodology. With this cookbook, everything is perfectly rich in taste!