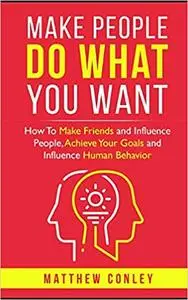 Make People Do What You Want: How To Make Friends and Influence People, Achieve Your Goals and Influence Human Behavior by Matthew Conley
English | 6 April 2021 | ASIN: B091WM9G5S | 162 pages | EPUB | 1.28 MB
Wishing You Could Become a More Influential Leader in Any Situation? It's Time to Make That Happen! Keep Reading!
Do you want to become more persuasive at work and close more deals?
Are you tired of being not taken seriously and wish you could sway people to see things from your perspective?
Do you crave to be the person everyone wants to be around or depends on for advice?
If you said YES to any of these questions, you're in the right place.
If you look at all of the most powerful and successful people in the world, they all have one thing in common: they know how to play well with others. And for good reason.
Being someone who people gravitate to is good for business, after all. However, it's a gift that only a few are blessed with.
Those who do not possess this kind of magnetism simply fall through the cracks and are forced to live in the shadows of those who do.
If you're the person who simply gets swept by the sidelines, don't worry. There's a way to turn your life around and achieve staggering long-term success!
Introducing "Make People Do What You Want" — the ultimate self-help book for people who want to become more influential and achieve self-growth!
In this powerful, game-changing guide, aspiring leaders and influencers like you will:
Successfully make friends, influence people and their behaviors, and achieve long-term goals in your daily life
Know exactly what to do, what you need, and what you can use using fundamental techniques in handling people
Learn the 6 FOOLPROOF ways to make people like you and successfully win people over to your way of thinking
Become a good leader, personally or professionally, and go far in life whatever path you choose to take
Rewire your brain to become more persistent, resourceful, and focused when it comes to achieving your goals
Face your fears and overcome any challenge by learning success tips from other people's success stories
Persuade others to do your bidding by knowing EXACTLY the right words to say in every situation
Learn the evidence-based mental strategies that will help you open up new opportunities for growth and success
And so much more!
Even if you've always been the wallflower, or simply the shy person who doesn't know their way around a room… that's all about to change!
Simply start reading "Make People Do What You Want" and learn everything you need to learn to further both your personal and professional lives and achieve every goal on your list!
Scroll up, Click on "Buy Now with 1-Click", and Grab a Copy Today!