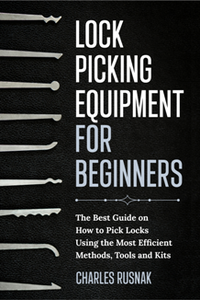 Lock Picking Equipment For Beginners : The Best Guide on How to Pick Locks Using the Most Efficient Methods, Tools and Kits
by Charles Rusnak
English | 2021 | ASIN : B093CJ3CM9 | 66 Pages | ePUB | 2.4 MB
Have you lost your keys and gotten locked out of your house at least once in your lifetime?
Are you gifted in Lock Picking or it's your Hobby?
Taking up a job in the Locksmith's place?
Read On if you answer YES to any of the questions!
Most people carry five to 10 keys with them whenever they go out. On your key ring you might have several keys for the house, one or two more for the car and a few for the office or a friend's house. Your key ring is a clear demonstration of just how ubiquitous lock technology is: You probably interact with locks dozens of times every week.
The main reason we use locks everywhere is that they provide us with a sense of security. But in movies and on television, spies, detectives and burglars can open a lock very easily, sometimes using only a couple of paper clips. This is a sobering thought, to say the least: Is it really possible for someone to open a lock so easily?
In this book, we'll look at the very real practice of lock picking, exploring the fascinating technology of locks and keys in the process.
Here is a little preview of what you will discover in this book:
Introduction to Lock Picking
The legality of Lock Picking in your area
The High Security Locks that are impossible to pick
The Best Lock Pick Sets and Equipment
Reasons you should consider Lock Picking as a Hobby
Answers to Frequently Asked Lock Picking Questions
Lock Picking Guides
And many more…
If you want to support my blog, then you can buy a premium account through any of my files (i.e. on the download page of my book). In this case, I get a percent of sale and can continue to delight you with new books!