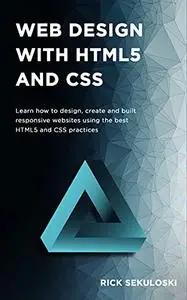 Web Design with HTML5 and CSS: Learn how to design, create and built responsive websites using the best HTML5 and CSS practices
by Sekuloski, Rick, Sekuloski, Rick
English | 2021 | ASIN ‏ : ‎ B097DWX99H | 161 pages | PDF, EPUB, AZW3 | 23.8 MB
Book Description
This book is the most up-to-date web development book, Rick's Web Design with HTML5 and CSS, teaches you step by step how to design a professional looking website that will work on any known device. You will learn how to code and create responsive websites that are automatically adapted for different screen sizes and you UI design will work flawlessly on mobile phones, tables and desktops.
This book is written in friendly and informal style and includes everything you need to be successful web developer. It includes two of the most important layout mechanisms like Flexbox and CSS Grid.
By the end of this book, you will have a comprehensive understanding of what responsive web design is and how you can implement the most advanced HTML5 and CSS techniques.
Who this book is for?
This book is for everyone one that wants to learn new front-end skills or even if you are already a stack developer but you still want to learn the new and modern HTML and CSS features. This book is for someone that wants to build responsive websites and gain deep understanding of HTML and CSS concepts.