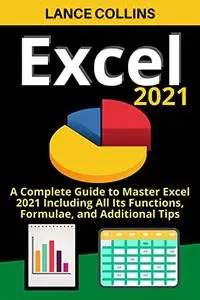 Excel 2021: A Complete Guide to Master Excel 2021 Including All Its Functions, Formulae, and Additional Tips.
by Collins, Lance
English | 2021 | ISBN: B09964ZK69 | 78 pages | PDF EPUB AZW3 | 8.47 MB
Would you like to impress your boss or even better, to impress YOURSELF?
If you can use excel REALLY well you'll save HALF the time and
it will make your job and your life EASIER and more FUN.
Sounds too good to be true?
The answer is in this book!
This guide contains EVERYTHING you need to know about the new 2021 Excel functions and functionalities such as innovative graphs, new kind of data and cloud storage …. just to name a few!
You'll be able to create complete and dynamic spreadsheets that can easily modify data, add graphs and references!
In this book you'll learn the ropes as well as the most advanced tips on how to use Microsoft Excel.
You'll also learn many useful tricks along the way!
This book is for beginners as well as more experienced users: using Excel has never been easier and in no time you'll go from newbie to Excel wizard!
In this text you'll find out how to use every Excel functions and functionalities!
Easy explanations with loads of pictures and examples!
If you're not ready to shake your career up, if you're not willing to commit 100% to learning new amazing tips and tricks for Excel this book is not for you!
In this fantastic guide you'll find:
- Introduction to MS Excel
- MS Excel interface
- Excel shortcuts
- How to sort and fill data
- Introduction to Excel spreadsheets
- How to create graphs
- Excel tips, formulas and functions and functionalities
- MS Excel commercial advantages
and much much more!
Wait no more! Buy this book and start mastering this fantastic program!
Ready to become a power user? Click here and buy this amazing guide!!