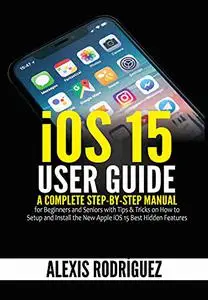 iOS 15 User Guide: A Complete Step-by-Step Manual for Beginners and Seniors with Tips & Tricks
on How to Setup and Install the New Apple iOS 15 Best Hidden Features
English | 2021 | ASIN: B09HPKGNMZ | 105 Pages | PDF EPUB | 2 MB
iOS 15 is the newest version of iOS that comes with new features that includes Apple Music support, improved Siri, and more. iOS 15, is now out and available to download. iOS 15 comes with improvements in Health, Photos, and Messages apps and comes with redesigned and updated user interface. iOS 15 is here to make the iOS experience easier and better. Apple's latest operating system is a big update that changes the way you view content. Whether it is a conversation on a messaging app or a new song on Apple Music, the new operating system brings your favorite experiences together in one place. As far as new features, iOS 15 brings a new Health App with more information about your health and fitness, Apple has introduced Apple Music as a social app that offers personalized experiences based on what you've been listening to, a redesigned Siri, new emoji's, and more.