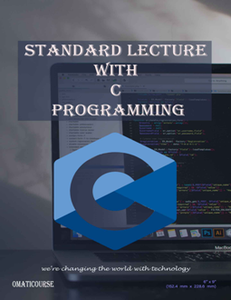 Standard Lecture With C Programming : learn from basics to advanced level in mother of popular modern programming languages and powerful programs
by Marhnine Omaticker
English | 2021 | ASIN: B09JJ982DW | 70 Pages | PDF | 0.68 MB
Standard lecture with c programming. is book for learn c programming and basics of programming at general. it's mother of popular programming languages and professional language which make you powerful programmer with other programming languages. should anyone have good practice in this language. this eBook will take you from scratch to advanced with 31 lectures and easy demonstrations.
If you want to support my blog, then you can buy a premium account through any of my files (i.e. on the download page of my book). In this case, I get a percent of sale and can continue to delight you with new books!