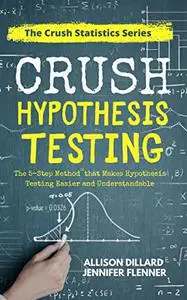 Crush Hypothesis Testing: The 5-Step Method that Makes Hypothesis Testing Easier and Understandable
English | 2021 | ASIN: B09K6X6QVN | 281 Pages | PDF AZW3 EPUB | 33 MB
Is hypothesis testing overwhelming you? In Introductory Statistics, hypothesis testing is one of the most difficult topics and every teacher, textbook, YouTube video explains in a slightly different way. If it's making you frustrated, you're not alone.