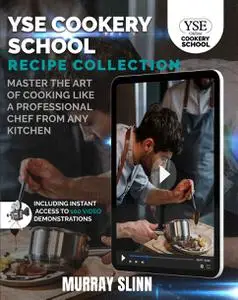 Murray Slinn, "YSE Cookery School Recipe Collection: Master the Art of Cooking Like a Professional Chef From Any Kitchen"
English | 2021 | ISBN: 1739970500 | ASIN: B09KNLPL79 | EPUB | pages: 314 | 13.7 mb
Elevate your skills and unlock a world of new culinary possibilities with these QR code links to 100 demonstrational cooking videos.
Do you feel like you can do a lot more and a lot better in the kitchen, if only you knew exactly where you need to improve?
Are you passionate about cooking but tired of the same old recipes?
Do you dream of one day becoming a professional chef, but you're unsure where to start?
A sensible course of action is to enroll in a reputable cookery school.
But apart from that, it's perfectly possible to take your cooking to the next level with an equally top-notch recipe collection…
One that will give you all the right knowledge and techniques, show you how it's done, and guide you as you practice to perfection.
And not just with a few common recipes either.
Instead, it should give you the opportunity to master a wide range of foods and ways of preparing them.
You are looking at such a guide.
In YSE Cookery School Recipe Collection, you will discover:
- 200 carefully-selected recipes to transform your kitchen creations
- Easy and full access to 100 exclusive cookery video demonstrations typically reserved for registered students
- Practical instruction to take your cooking skills from amateur to professional level
- How to maximise your time in the kitchen without sacrificing quality or flavour
- The simple but overlooked reason why accurate scales are a must for quality cooking
- How to spice up meals with delightfully unique dips and chutneys
- How to control the delicate baking process to produce soft, mouth-watering bread
- How to liven up your entire day with flavourful twists to common breakfast fare
- Salads that will make your guests go, "Why haven't I thought of this before?!"
- The most savoury canapes to get any gathering off to a wonderful start
- How to cook vegetarian meals that are so good you'll convince people to reconsider their lifestyle
- The best way to prepare seafood, beef, pork, poultry, and more to bring out distinct flavours, textures, and aromas
- Bonus: Access to a unique course that will give you 5-star level knife skills
And so much more.
Make no mistake. This is not your average cookbook.
Like many people, you may learn better if you can see, rather than just read, what you're trying to accomplish.
That's why this collection includes access to top-quality video demonstrations you will surely find invaluable.
It's almost like being in YSE Cookery School and working on the recipes hands-on.
And that's not the only advantage that sets this collection apart.
It also contains a wealth of gastronomic wisdom, best practices, and practical pointers that can only be derived from years of cooking experience and enjoyment of fine food.
So, whether you cook for a living or live for the joy of cooking, this one-of-a-kind resource will equip and inspire you to take your kitchen adventures to new heights.
If you're ready to discover the secrets to creating and presenting world-class cuisine regardless of your skill level, then scroll up and click the "Add to Cart" button right now.