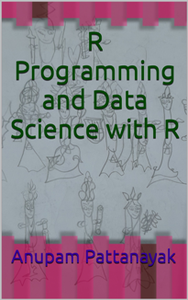 R Programming and Data Science with R
by Anupam Pattanayak
English | 2021 | ASIN: B09P7J4TSC | 162 Pages | PDF(conv)/ePUB | 2.3 MB
This book is an introduction to R programming as well as introduction to data science with R. Objective of this book is to allow the reader grasp the basics of R programming quickly and make her proficient in basic R programming skill and it's use in data science. However, there are many other commands and packages available than introduced in this book. So, it does not cover all the finer details of R and it's packages. But it discusses the primary topics well enough so that one gets good foundation for stepping into advanced R programming. All the programs given in this book have been executed in Linux platform. The execution of most of these programs are also given so that the reader can grasp it quickly and then go for execution on her own. If one is not interested to learn about data science, then one can skip the related final few chapters.
If you want to support my blog, then you can buy a premium account through any of my files (i.e. on the download page of my book). In this case, I get a percent of sale and can continue to delight you with new books!