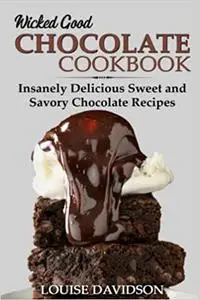 Louise Davidson, "Wicked Good Chocolate Cookbook: Insanely Delicious Sweet and Savory Chocolate Recipes"
English | 2022 | ASIN: B09RQDNZL8, B09RMBJGY3 | EPUB | pages: 115 | 2.6 mb
This cookbook is for all chocolate lovers! Make classic and new chocolate dishes with this creative collection of recipes where chocolate is the star ingredient.
Download FREE with Kindle Unlimited!
Who doesn't love chocolates? Originating from cacao pods, this flavoring agent can be made into countless dishes like cakes, pie, pancakes, mousse, cookies muffins, and so much more. It can even be incorporated into a savory dish!
This cookbook features recipes for the most delicious and easiest sweet and savory chocolate recipes. Whether you've made several recipes using chocolate before or just want to try out something new, this new cookbook from Louise Davidson's Wicked Good series boasts a collection of kitchen-tested chocolate recipes that the whole family will love, even the pickiest eaters!
Inside this cookbook, you'll find recipes like:
CHOCOLATE CAKES AND OTHER BAKED GOODS
- Chocolate Mousse Cake
- Lava Cake
- Chocolate Cheesecake
CHOCOLATE CREAMY DESSERTS
- Easy Chocolate Pie
- Chocolate Roulade
- Chocolate Ice Cream
COOKIES AND BARS
- Chocolate Chip Cookies
- Triple Chocolate Chip Cookies
- Chocolate Peanut Butter Bars
CHOCOLATE CANDIES
- Chocolate Mint Candies
- Chocolate Cherry Blossom
- Chocolate Truffles
CHOCOLATY BREAKFAST
- Chocolate Pancakes
- Chocolate Crepes
- Chocolate Muffin
SAVORY CHOCOLATE DISHES
- White Chocolate Baba Ganoush
- Cocoa-Rubbed Pork Baby Back Ribs
- Chicken Mole
All recipes come with a detailed list of ingredients, the number of servings, the prep and cooking times, easy-to-follow step-by-step instructions, and the nutrition facts.
Read on your favorite devices such as Kindle, iPhone, iPad, Android cellular phone, tablet, laptop, or computer with Amazon's free reading Kindle App.
If you love chocolate, this cookbook is a MUST! Let's start baking!
Scroll back up and click the BUY NOW button at the top right side of this page for an immediate download!