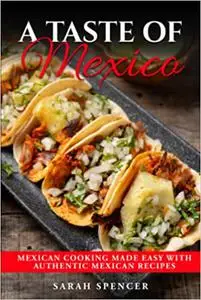 Sarah Spencer, "A Taste of Mexico: Traditional Mexican Cooking Made Easy with Authentic Mexican Recipes"
English | 2022 | ASIN: B0B2TKRT5G, B0B2M2H6PH, B0B2T8CMMX | EPUB | pages: 198 | 5.0 mb
Bring the flavors of Mexico to your table with this collection of authentic Mexican recipes from breakfast to dessert!
Tacos, burritos, tortillas, and more… Mexican food is enjoyed by people throughout the world. It's exotic and flavorful! Though it may seem challenging and complex to prepare at first, the fact is that once you start making it, achieving an authentic taste will soon become almost effortless.
This new addition to Sarah Spencer's "A Taste of…" cookbook series features a collection of authentic Mexican recipes, highlighting the rich flavors of Mexico. No matter how many times you enjoy Mexican recipes, you'll always want to have them again and again. Not everyone is fortunate enough to live in Mexico and enjoy its world-class cuisine firsthand, but you can make it in the comfort of your home. This book delivers a collection of flavorful authentic Mexican recipes. Some of these recipes are a little rich and spicy—not necessarily the best thing to eat when you're on a diet—but they are all full of amazing flavors.
If you're looking to cook authentic Mexican recipes, simply flip through these pages where you'll find the following:
- Mexican Cuisine Terms to Know
- Essential Ingredients Found in a Mexican Pantry
- Mexican Cooking Equipment and Tools
- Over 110 flavorful Illustrated Mexican recipes from breakfast to Dessert like:
BREAKFAST
- Molletes
- Huevos Rancheros
- Chilaquiles Rojos
- Conchas
MEXICAN BASIC CONDIMENTS, SAUCES, DIPS, AND TORTILLAS
- Taco Seasoning
- Classic Guacamole
- Easy Adobo Sauce
- Salsa Verde
- Corn Tortillas
STARTERS AND SOUPS
- Posole Verde
- Chicken and Potato Flautas
- Pork Empanadas
- Quick Baked Tortilla Chips
- Albondigas – Meatball Soup
CHICKEN
- Chicken Mole
- Tinga de Pollo
- Guisado de Pollo
- Chicken Enchiladas
- Chicken Drumsticks in Clay Pot
BEEF
- Birria de Res
- Beef Enchiladas
- Carne Asada Tampiqueña
- Aporreadillo
- Tacos de Bistec
PORK AND OTHER MEAT
- Chilorio
- Pork Carnitas
- Cochinita Pibil
- Tlayuda con Chorizo
- Chorizo Tostadas
FISH AND SEAFOOD
- Shrimp Aguachile
- Shrimp Tacos
- Ceviche de Sierra
- Devil's Shrimp
- Fish Tacos
VEGETARIAN
- Chilaquiles Verdes
- Cheese Quesadilla
- Quick and Easy Frijoles Charros
- Pot Beans
SIDES AND SNACKS
- Refried Beans
- Mexican Rice
- Roasted Pepper Gorditas
- Sweet Corn Tamales
DESSERTS
- Pastel Impossible
- Buñuelos
- Flan
- Polvorones
- Churros
Recipes come with beautiful images, a detailed list of ingredients, the cooking and preparation times, the number of servings, and easy-to-follow step-by-step instructions.
Ready to make some Mexican dishes? Let's get started! Scroll back up and click the BUY NOW button at the top right side of this page to order your paperback copy now!