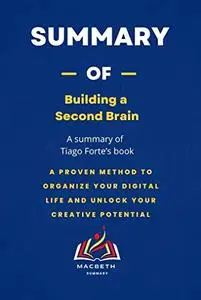 MACBETH Summary, "Summary of Building a Second Brain By Tiago Forte: A Proven Method to Organize Your Digital Life and Unlock Your Creative Potential"
English | 2022 | ASIN: B0B56M13GZ, B0B56Q85V6 | EPUB | pages: 28 | 0.1 mb
DISCLAIMER
This book does not in any capacity mean to replace the original book but to serve as a vast summary of the original book.
IN THIS SUMMARIZED BOOK, YOU WILL GET:
- Chapter astute outline of the main contents.
- Fast & simple understanding of the content analysis.
- Exceptionally summarized content that you may skip in the original book
A Second Brain is a digital repository of your most valued ideas, notes, and creative work synced across all your devices and platforms. A revolutionary approach to enhancing productivity, creating flow, and vastly increasing your ability to capture, remember, and benefit from the unprecedented amount of information all around us.