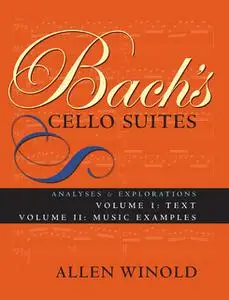 «Bach's Cello Suites, Volumes 1 and 2» by Allen Winold
English | EPUB | 10.6 MB
J. S. Bach's Suites for Unaccompanied Cello are among the most cherished and frequently played works in the entire literature of music, and yet they have never been the subject of a full-length music analytical study. The musical examples herein include every note of all movements (so one needs no separate copy of the music while reading the book), and undertakes both basic analyses—harmonic reduction, functional harmonic analysis, step progression analysis, form analysis, and syntagmatic and paradigmatic melodic analysis—and specialized analyses for some of the individual movements. Allen Winold presents a comprehensive study intended not only for cellists, but also for other performers, music theorists, music educators, and informed general readers.