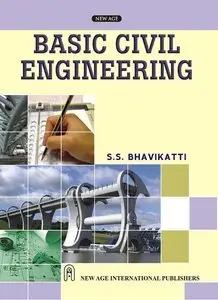 S S Bhavikatti, "Basic Civil Engineering"
New Age International (P) Ltd. | 2010 | ISBN: 8122427774 | 304 pages | PDF | 3,3 MB
This book is specially written for the use of students of RGPV, Bhopal. It covers entire syllabus on Basic Civil Engineering as per RGPV, Bhopal. It is divided into five sections and each section is further divided into suitable number of chapters. Care has been taken to see that entire syllabus is covered to the required extent. Simple language has been used, neat sketches arepresented and problems are solved in detail. Author hopes good response from the students and staff of RGPV, Bhopal.
About the Author(s):
Dr. S.S. Bhavikatti studied at BVB College of Engineering and Technology, Hubli for his BE (Civil) degree and graduated from Karnataka University, Dharwad in 1963, sharing first rank with another candidate. The same year he joined Karnataka Regional Engineering College, Surathkal (presently NITK, Surathkal), as a teacher. He secured ME degree in Structural Engineering in 1967 from University of Roorkee, Roorkee (presently IIT Roorkee) under Technical Teachers Training Programme and Ph.D. degree in 1977 from IIT Delhi under Quality Improvement Programme. He served at NITK, Surathkal in different capacities like Head of Civil Engineering Department; Chairman, Center for Continuing Education, Chairman, Central Computer Center and Dean (Administration). From November 2001 to November 2005, he served at SDM College of Engineering and Technology, Dharwad. He also served at RYMEC, Bellary as Principal for 1 year 9 months. Presently he is Emeritus Fellow, the Fellowship offered by AICTE, New Delhi and now is serving at BVB College of Engineering and Technology, Hubli. He has published more than 60 technical papers and 23 books. He has guided 62 students for M.Tech. thesis and 5 students for Ph.D. He was a member of organising scientific committees of international seminars organised by IASS held at Tae.