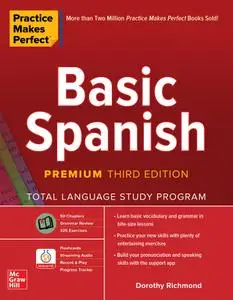 Basic Spanish (Practice Makes Perfect), 3rd Premium Edition by Dorothy Richmond
English | April 3rd, 2020 | ISBN: 1260453499 | 272 pages | EPUB | 20.94 MB
Master essential language skills to build your confidence in basic Spanish
Whether you are learning on your own or taking a beginning class, Practice Makes Perfect: Basic Spanish will support your study and build your confidence in your new language. Each bite-sized lesson of this bestselling guide focuses on just one key grammar concept, supported by essential vocabulary and clear examples of everyday usage. You will then learn to communicate in authentic Spanish: how to meet new people, engage in small talk, express ideas, and more.
More than 300 entertaining exercises will help you practice your new skills. And this third edition is also accompanied by flashcards and extensive audio recordings, available via app, that will provide a new dimension and flexibility to your study.
Practice Makes Perfect: Basic Spanish will help you master:
• High-frequency vocabulary across common themes
• Key verbs, such as ser, estar, tener, hacer, ir, poder, and their uses
• Saber vs conocer; por vs para, comparatives and superlatives
• Verb forms, sentence structures, and more
Enjoy
My Blog
. No any convert or low quality!