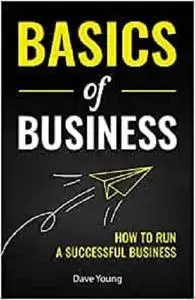 Basics of Business: How to Run a Successful Business by GTM Press LLC
English | May 31, 2021 | ISBN: 1955423431 | 176 pages | EPUB | 0.19 Mb
Dreaming of Starting Your Own Business and Living Life on Your Terms? It's Time to Make That a Reality — The Ultimate Guide to Running a Successful Business is Here!
Do you have an amazing idea for an innovative product or service but aren't sure how to make it into a profitable venture?
Success comes in many forms. However, some people are just luckier than others. Yes, success – especially in business – also requires a little luck. But it's the perseverance, passion, ideas, connections, and know-how that truly drive the dream.
You simply cannot make an idea work – no matter how remarkable – if you don't have the right tips, tools, and best practices to set you and your business up for massive, long-term success.
Good thing there's "Basics of Business" by renowned serial entrepreneur Dave Young to make the journey easier and all the more enjoyable for aspiring business owners like you.
In this game-changing guide, you will:
Take strides in the right direction and save on time, energy, and resources — make your first steps count
Unearth the secret keys to strategic and sustainable business planning, execution, operation, and maintenance
Save yourself the hassle of needing big capital — get a lean and quick start using proven bootstrapping methods
Learn the 6 crucial steps to successfully marketing your business and reach as much of your target audience as you can
Get 26 of the best business practices and tips that you can apply to your day to day business and professional lives
And so much more!
Starting a business is hard… but it's only the beginning. Maintaining and making it profitable is even more challenging.
So, why not remove some of the hurdles out of your way with "Basics of Business"?
Feel Free to contact me for book requests, informations or feedbacks.
Without You And Your Support We Can't Continue
Thanks For Buying Premium From My Links For Support