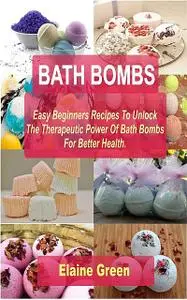 «Bath Bombs Easy Beginners Recipes» by Elaine Green
English | EPUB | 0.2 MB
Experience A Deeper Dimension Of Pleasurable And Therapeutic Bath ExperienceSpice Up Your Bath With These Aromatic Bath Bombs RecipesBath time shouldn't be taken lightly. It is another opportunity to relax frail muscles, ease the tension of the day or night and have a wonderful time. However, you cannot partake of these benefits if you immerse yourself in your ordinary, boring bath water.You need to spice your bath with color, fragrance, luxurious and therapeutic goodies that are uniquely packed in a wide range of bath bombs which are all well presented in this guide book. These fizzy bombs will invigorate, refresh and energize you for your everyday tasks. Using store— bought bath bombs just won't cut it as they are loaded with chemicals and detergents that may adversely affect your skin.In this book, there are 37 bath bomb recipes for you to make and enjoy. And that's just the beginning. There is also a wealth of clearly— written information and interesting tips for beginners so you can never go wrong. They are all easy to understand and within a short time, you will definitely be making the world best's bath bombs. Some Of These Information Are:Bath Bombs And Their Many BenefitsBasic Bath Bomb IngredientsGetting The Right ConsistencyMolding Your Bath BombsColoring Your Bath BombsCommon Bath Bomb Problems & Their SolutionsMaking Rich Bath BombsFinishing Your BombsAnd A Whole Lot More…A Preview Of The Categorized Bath Bomb Recipes Are:Skin Care Bath Bomb RecipesSimple Bath Bomb RecipesSpecial Days Bath Bomb RecipesTea Bath Bomb RecipesFragrant Bath Bombs…And while we are on the subject of bombs, a bonus recipe of a Delightfully Aromatic Toilet Bomb to keep your bathroom smelling fresh and hygienic.So What Are You Waiting For? Join the thousands of people who are discovering the wonderful benefits of bath bombs by buying this guide book. They are simply lovable!