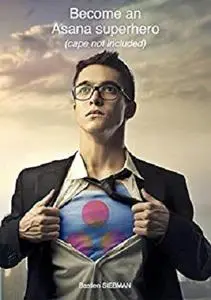 Become an Asana superhero: (cape not included) by Bastien Siebman
English | March 17, 2018 | ASIN: B07BJKHR8D | 110 pages | PDF | 125 MB
This ebook will help you become the Asana superhero you always dreamed to become. Learn tips and tricks about Asana for personal use, send tasks by email, deal with overwhelming situations, organize tasks and projects etc.
We all want to be superheroes, I wanted to be a superhero myself. After all, Batman has no "divine" power like Superman. He does not have a special ability like Spiderman. No, he is just "a guy" with a goal (save his city, Gotham), resources (lots of money, and a secret cave) and a team (Robin, Lieutenant Gordon and Batman's butler Alfred).
I wanted to be a superhero. One day, I woke up and realized I became one. But not the one you have in mind, the one I had in mind. Someone who accomplishes a lot, someone who knows the difference between useful and useless, someone who is organized and efficient, someone who has the clarity to say "I will never do this, let's forget about it," someone with the tool and methodology to do great things. I might not have changed many lives, but I managed to build things I am proud of, I learned a lot while doing it, got a job thanks to it, and take a lot of pleasure trying to share.
This guide will give you all the tips and tricks I learned or discovered myself using Asana and trying to be productive in general. It is designed to help someone using Asana as an individual, dealing with his/her personal or professional tasks. I won't teach you how to work better with teammates in Asana, you will figure it out yourself (or with the help of an upcoming ebook, who knows). But I do believe if you become an Asana superhero, it won't be long before you develop you own methods and spread the word to your team and company.
Also, I strongly suggest that you have known and used Asana for a while to dive into this book. I won't explain the basics, which you can learn either from the Asana Guide, or from my first ebook "Do Better With Asana".
This book is made of several small chapters focusing on one single idea. They are organized in three sections. First, we will focus on Methods and best practices. Then we look at potential allies to improve your work, and enemies you should be aware of. Then, we go further to become a real superhero…
"This is a great guide if you are beginning your journey with Asana — it gives you insight into an Asana expert's experience, all that you can do with Asana, and bits of advice, all with a touch of humor. It doesn't stop there though — the expert cares about your experience and your voice, and wants to take you along for the ride."
Meagan
"I'm a recently new Asana user and was able to get a lot of useful productivity tips from the book. Each chapter is illustrated with a real-life example that everybody can relate to easily which helps adopting the tips and tricks presented. I only wished I had read it earlier so as to not miss out on all the nice ideas from the beginning of my Asana's experience! I would recommend this book to anyone feeling they are not getting every drop of juice out of Asana. That for sure will help them to squeeze out the last few drops!"
Paul