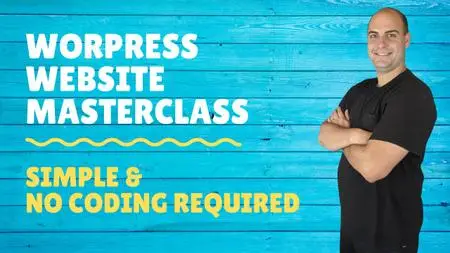 Beginner Wordpress Website Masterclass - Build A Website Without Coding, CSS, or HTML
Duration: 1h 40m | .MKV 1280x720, 30 fps(r) | AAC, 48000 Hz, 2ch | 1.48 GB
Genre: eLearning | Language: English
Welcome to the WordPress Website Masterclass! In this class, you'll learn how to build a self-hosted WordPress website from scratch without any technical skills.
Whether you're a brick-and-mortar business looking to build an online presence, a student looking to build a personal brand website, or a blogger who wants more freedom than what wordpress.com offers, you can benefit from the strategies & techniques taught in this course.
Here's a quick rundown of what's covered in the class:
Video #1 - Welcome & Overview
In this video, I talk about the basic elements of a website and how they all fit together. You'll learn the basic terminology involved and get a visual representation of what you're going to be creating
Video #2 - Domain & Hosting Set-Up
This video talks about basic domain name strategy as well as shows you how to keep all of your personal information private. After that is completed, I walk you through setting up your website hosting.
Resources Mentioned - NameCheap & Hostgator (Links)
Video #3 - WordPress Installation & Initial Clean Up
This video will show you how to install WordPress on your website and clean up the initial install. Stock Wordpress is full of bloat and we're going to trim it down so it runs smoother and faster.
Resources Mentioned - Wordpress Install Software is located in your Hostgator cPanel.
Video #4 - Sub Domains & Email Addresses
If you're using this website for a business, you'll probably want to hook up a Sales Funnel to it eventually. Sub-Domains are a great way to have both a WordPress site and funnel software (Link) on the same domain name. You'll also learn how to create custom email branded addresses to give yourself that extra bit of professionalism.
Video #5 - Website Security
This video will start to talk about securing your website by utilizing the HTTPS protocol. You can use it via a free service like Cloudflare and it's fairly simple to set up.
Resources Mentioned - Cloudflare.com (Link)
Video #6 -Building Compliance Pages
This video will show you how to generate the most boring pages on your entire website. Compliance pages. things like your privacy policy, affiliate disclosure, and terms and conditions are all discussed here.
Resources Mentioned - Termly.io (Link)
Video #7 - Theme & Plugins Installation
This video will walk you through installing your theme and plugins. This will dictate the look & feel of your website as well as give you the ability to collect email leads from your website.
Resources Mentioned - Thrive Themes & WP Rocket (Links)
Video #8 - Theme & Plugin Configuration
After installing everything in the last video, I walk you through the settings and configuration of each plugin and your theme in this video. This should give you optimal performance for your website.
Video #9 - SEO Basics
What good is your website if no one can find it? This video talks about the basic strategy behind SEO and how to find a keyword that you have a good chance of ranking for. These keywords will give you the prompts for your first couple of articles.
More Info