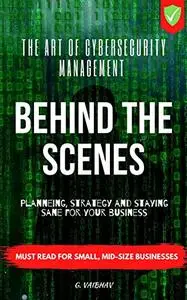 Behind The Scenes - The Art of Cybersecurity Management: Planning, Strategy, & Staying Sane for your Business
English | 2021 | ASIN : B094H4GB6N | 48 pages | PDF, AZW3, EPUB, MOBI | 2.14 MB
Are you at the CXO level, Top Management, Executive, or Leader in your organization? Then this is a must-read for you,
With the pandemic hit us in the year 2020, businesses worldwide have faced several challenges. The lockdown made many companies turn to a remote operation that relied heavily on digital and cloud infrastructure. However, today's digital technologies have become more targeted by hackers and cybercriminals. Regardless, companies have come to accept the importance of Cybersecurity, and many have implemented IT Infrastructure upgrades to that effect.
This book will explore the increasing technology risks that organizations face with cyberattacks, their driving factors, the role of CxO, Executives, and Leaders of each organization and more efficient techniques to protect all their digital infrastructure.