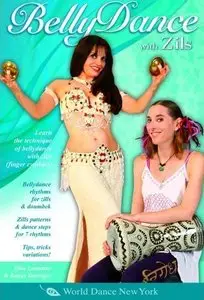 Bellydance with Zills
DVDRip | AVI / XviD, 1194 kb/s | 640x468 | 01:30:06 | English: MP3, 128 kb/s (2 ch) | 859 mb
Elsa moves step-by-step through the logistics and foundations of zil-playing for dancers, including her technique of alternating hands in interpreting rhythms on the zils (compared to designating a leading vs supporting hand.) This powerful technique allows greater speed than the common leading/supporting-hand style of zil playing (enhancing performances to modern fast-paced music, such as Arab pop) and improves coordination between zil playing and dance steps by eliminating the one-sidedness of the leading/supporting-hand style. Next, Elsa breaks down each of the 7 rhythms as interpreted on the zils and offers exercises to develop speed and freedom of hand and arm movement while playing zils. In addition, Elsa provides a number of dance steps and combinations for each and every rhythm, and leads a session where steps and zil playing are combined and practiced first with counting and then with music.
Welcome to the best movies collection (English, German, French language), best software, best eLearning video and many-many more:
LINK
Do not forget to check my blog! Updated regularly!