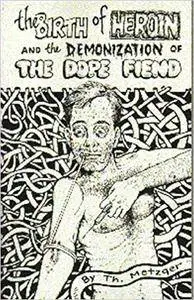 Birth of Heroin and the Demonization of the Dope Fiend by Th. Metzger
English | 1998 | ISBN: 1559501774 | 232 Pages | PDF | 4.8 MB
Much of the vilification of drugs and drug users, including hostility toward heroin and the specter of the "dope fiend," started out as lurid media fodder, Metzger says, created to excite ordinary fears and respond to ordinary resentments. Metzger traces the development of heroin–" God's Own Medicine," the first chapter title calls it–from its earliest precursor on North American shores, the opium component of the Pilgrims' drug of choice, laudanum. He details its odyssey from legal miracle drug to national scourge, touching, as he proceeds, on the Chinese Exclusion Act of 1882, the Prohibition phenomenon, and the rise to national prominence of an "American Cult of Purity." Metzger's purpose is not to advocate heroin use but to examine the drug's history and the attendant misconceptions about it. Informative reading for collections open to more than a paranoid perspective on narcotics.