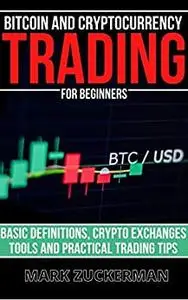 Bitcoin And Cryptocurrency Trading For Beginners: Basic Definitions, Crypto Exchanges, Tools And Practical Trading Tips by Mark Zuckerman
English | 2020 | ISBN: N/A | ASIN: B08RWNL6MV | 111 pages | EPUB | 1.92 Mb
IF YOU WANT TO TRADE BITCON AND OTHER CRYPTOCURRENCIES BUY THIS BOOK NOW AND GET STARTED TODAY!
This book is an excellent beginner's guide to understand the fundamentals of trading Bitcoin and other cryptocurrencies.
THIS BOOK WILL TEACH YOU;
•Why Bitcoin it's an excellent trading instrument.
•What are best cryptocurrency exchanges to start trading right away.
•What are the best Mobile and Hardware Wallets for trading crypto.
•Basic trading terms such as currency pairs, base and quote, order book, bids and asks, stop limit option and dollar cost averaging.
•How to use BNB as a Trading Tool to exchange Bitcoin or other cryptocurrencies on various platforms.
•How you can earn passive Income on Coinbase and how you can earn interest with Compound Finance.
•Tricks on how to sell & withdraw Crypto from Coinbase Pro paying the least fees there is.
•Several practical guides on how to install and use the Binance Widget Trading Tool in Brave browser, how to place Market Orders on Coinbase Pro, Blockchain & Binance and how to buy, sell and trade crypto on eToro.
•How to value DeFi tokens and what are top 5 cryptocurrency picks are for 2021.
Feel Free to contact me for book requests, informations or feedbacks.
Without You And Your Support We Can't Continue
Thanks For Buying Premium From My Links For Support