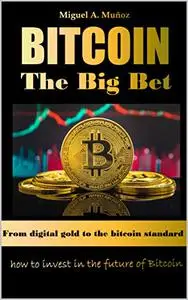 Bitcoin. The big bet. From digital gold to he bitcoin standard: How to invest in the future of Bitcoin by Miguel A. Muñoz
English | 2022 | ISBN: N/A | ASIN: B09SGR52MS | 330 pages | EPUB | 1.82 Mb
Bitcoin will reach one million dollars. A bitcoin will be worth more than your house. Every headline about Bitcoin is more surprising. However, although everyone thinks they know what it is, the truth is that there are many questions that need to be answered.
What is Bitcoin?
Did you know that bitcoin is the first synthetic "thing" with perfect scarcity?
Is the Bitcoin network secure and reliable, who controls it, how do you mine bitcoin, and what if it gets banned tomorrow?
What if it is banned tomorrow? Is it the currency of drug dealers?
Why does its network consume more electricity than Austria and Portugal combined?
Why is it said to be like gold, the solution to the alchemist's problem?
Why is it said to protect from investment?
What is gold, and what is a dollar? Did you know that four out of ten existing dollars were created less than three years ago? Is Bitcoin the best invention in the world, or is it a bubble that sooner or later will end up bursting?
Maybe Bitcoin is the best product to invest in, or maybe not. But what no one should do is invest their money without knowing in what. And much less when it is something intangible like a token that acts as a currency even though it is not.
You don't have to be a computer scientist or mathematician to know what Bitcoin is and how it works. You don't have to be an economist to analyze the catalysts and risks that can push its value towards a million dollars or even zero.You don't have to be a historian to know how money and the store of value are formed, how the gold standard came to be and how inflation can kill the economy. But to know about Bitcoin you have to analyze it from all three points of view to get the full picture.
Feel Free to contact me for book requests, informations or feedbacks.
Without You And Your Support We Can't Continue
Thanks For Buying Premium From My Links For Support