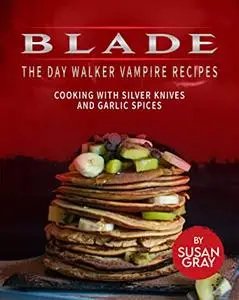 Blade: The Day Walker Vampire Recipes: Cooking with Silver Knives and Garlic Spices
By Susan Gray
English | 2020 | ASIN: B086WZVGJ3 | 90 pages | EPUB | 2.6 MB
The Marvel Cinematic Universe has a reputation for making some of the best superhero movies, and this reputation has been there for many years now. About 2 years before the 21st century, there was the movie, Blade.
Blade was one of the earliest comic book adaptation successes of the Marvel Cinematic Universe. There was the half-vampire protagonist called Blade, who had the powers of a vampire but did not have most of their weaknesses. His mother was bitten by a vampire while she was pregnant, and she delivered him safely but was thought to have died as a result of the vampire attack.
Blade (played by Wesley Snipes) fought alongside Abraham Whistler to stop malignant vampires from harming humans. While they fought, they had their strategies just like cooks have their recipes, and in this book, we bring to you 30 vampire recipes that replicate some of Blade's strategies against the vampires.