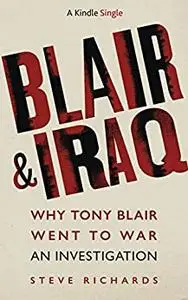 Blair & Iraq: Why Tony Blair Went to War - An Investigation by Steve Richards
English | 2016 | ISBN: N/A | ASIN: B01GI1HD5Y | 95 pages | EPUB | 0.18 Mb
In a unique investigation the award-winning political columnist and broadcaster Steve Richards uncovers the real reasons why Tony Blair went to war in Iraq. Unlike the official inquiries, including Chilcot, Richards roots his investigation in Blair's apprenticeship as a politician during the 1980s. He shows that Blair did not change from a leader who sought a big tent of support in 1997 to one who cared little about popularity in relation to Iraq. Instead, as usual, Blair sought his Third Way en route to war and became trapped in a nightmare of Shakespearean proportions.
Steve Richards is a political columnist who has written for the Guardian, Independent, Times, New Statesman and Spectator. He presents BBC Radio 4's Week in Westminster and has presented documentaries for Channel 4 and the BBC on Tony Blair, Gordon Brown, David Cameron, Ed Miliband and Nick Clegg. He presented GMTV's Sunday Programme for ten years and was a BBC Political Correspondent. He is a regular guest on SKY News and BBC outlets. He presents a live one man show, Rock N Roll Politics, and his most recent book
Whatever It Takes
was published by Fourth Estate.
Feel Free to contact me for book requests, informations or feedbacks.
Without You And Your Support We Can't Continue
Thanks For Buying Premium From My Links For Support