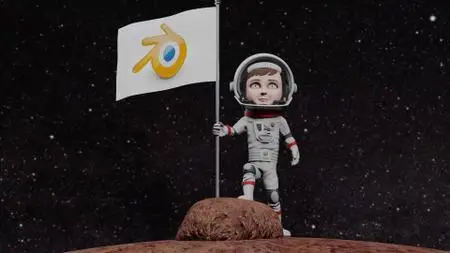 Blender 2.8 Character Creation
.MP4, AVC, 1280x720, 30 fps | English, AAC, 2 Ch | 16h 34m | 5.04 GB
Instructor: Darrin Lile
Explore a new frontier in 3D animation with the character creation tools in Blender 2.8. This course takes you through everything you need to know to create your own 3D characters with Blender. Animator Darrin Lile explains how to model the entire body, from head to feet, and model an animation-ready face with proper edge flow. Learn how to create your character's costume—in this example project, a space suit and helmet—and use the new Eeevee renderer to set up and apply realistic, high-resolution textures. Finally, discover how to rig the character, light your scene, and create and render a turntable animation. The skills you learn in this course will take your character creations to a whole new level.
Topics include:
Modeling the head
Modeling the eyes, ears, nose, and mouth
Extruding the torso
Modeling arms and hands
Creating the space suit
Sculpting the suit
Modeling the helmet
UV mapping the character
Baking a normal map
Assigning materials
Texture painting details
Modeling and texturing hair
Rigging the character
Lighting and rendering the scene