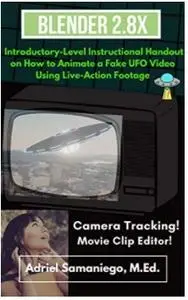 Blender 2.8X Introductory-Level Instructional Handout on How to Animate a Fake UFO Video Using Live-Action Footage: Camera Tracking and Movie Clip Editor … Introductory-Level Instructional Handouts)
by Adriel Samaniego MEd
English | 2020 | ISBN: N/A | ASIN: B08D3CHNB3 | 44 pages | AZW3 | 0.82 Mb
This is an instructional handout for Blender 2.8 versions. It is heavily structured and procedural. It is intended for new learners of Blender 3D. Its step-by-step instructions are designed to aid you in the activity instead of overwhelming you. The tools used can be transferred to other Blender projects you might be working on.
The activity in this handout is to animate a 3D model of a UFO in actual live-action footage.
These skills are used in the industry to create special effects.
Learn by doing.
Tools and Features used in this project include:
Movie Clip Editor
Camera Tracking
Detecting Features for Tracking
Deleting Bad Trackers
Reducing the Solve Error
Transfering the Camera Tracking data to the 3D Viewport
Orienting the Camera Tracking data to the 3D Viewport
Matching the Lighting in the video to the 3D Viewport
Where to find royaly-FREE video and photos
Where to acquire online Blender Files
Blender is FREE Opensource 3D Modeling Software and available from blender.org for download.
You can also support future publications by subscribing to my YouTube Channel "Blender Savage"
Copy and Paste the Link below to Check out my Youtube Channel and a video on this handout:
https://www.youtube.com/channel/UC5Xzr_xXz9IoeJU2brDa6LA
Feel Free to contact me for book requests, informations or feedbacks.
Without You And Your Support We Can't Continue
Thanks For Buying Premium From My Links For Support