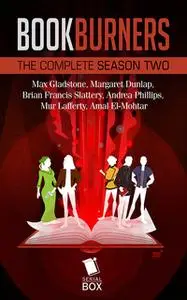 «Bookburners: The Complete Season 2» by Max Gladstone,Mur Lafferty,Brian Francis Slattery,Margaret Dunlap,Andrea Phillips,Amal El-Mohtar
English | ISBN: 9781682101254 | EPUB | 3.9 MB
Magic is real, and hungry–trapped in ancient texts and artifacts. Only a few who discover it survive to fight back.
Join Detective Sal Brooks, newest recruit to a black-ops magic hunting team backed by the Vatican, as she travels the world to keep the supernatural in check. Just remember: watch your back and don't touch anything.
Fans of Supernatural, The X-Files, Buffy the Vampire Slayer, and The Da Vinci Code will love this epic urban fantasy. Bookburners Season 2 is written by Max Gladstone, Margaret Dunlap, Brian Francis Slattery, Andrea Phillips, Mur Lafferty, and Amal El-Mohtar and presented by Serial Box Publishing.