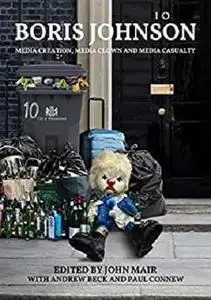 Boris Johnson: Media Creation, Media Clown, Media Casualty? by John Mair
English | August 20, 2022 | ISBN: N/A | ASIN: B0B6QK6LCZ | 170 pages | EPUB | 0.30 Mb
BORIS JOHNSON: MEDIA CREATION, MEDIA CLOWN, MEDIA CASUALTY?
Edited by John Mair with Andrew Beck and Paul Connew
Prime Minister Boris Johnson was a media phenomenon to the bitter end of his time in Downing Street. He was made by the media, he exploited the media throughout his career, used it to create the 'Bojo' clown image but, ultimately, was destroyed by the media mainly over his tangential relationship to the truth.
Boris' rise and fall is a comic opera of our times. This book of short essays follows that charade in seven acts and a finale, chronicled by a series of authors from Gina Miller to Peter York to Sir John Curtice to Raymond Snoddy to David Cay Johnston (Trump's anti-Boswell) to a clutch of academics, including Professors Cathcart, Choudhury, Gaber, and Wayne; Drs Collins, Double, Jackson Brown, Foster, Lister, McCabe, and MacLennan, plus journalists of the calibre of Robin Aitken, Angela Antetomaso, Paul Connew, Tor Clark,Liz Gerard and Tim Walker.
In more than 30 chapters they examine Bojo the media confection in close order. They find it wanting.
This, the first book since his ungracious 7 July resignation, is simply about Boris Johnson. He is one of Britain's shortest-serving, and probably the worst, Prime Minister of modern times and his media persona, good and bad.
The book is edited by John Mair, whose fiftieth hackademic publication this is in just over a decade; with Paul Connew, media commentator and former editor of the Sunday Mirror; and the distinguished media academic Andrew Beck.
The brilliant cover is designed by Dean Stockton.