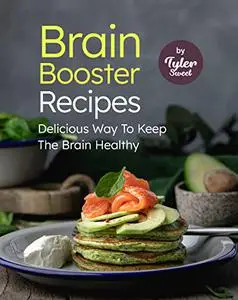 Brain Booster Recipes: Delicious Way To Keep The Brain Healthy by Tyler Sweet
English | 2022 | ISBN: N/A | ASIN: B09JJSS59M | 81 pages | EPUB | 3.50 Mb
"Your body is the reflection of your mind." We all have heard and read this quote numerous times but do we really follow it? The answer to this question might vary from person to person. In today's world, we barely pay attention to the food we eat as we are so busy running around in schools, colleges, and/or offices. In this busy and work and career-oriented life, we often overlook our health, thinking it will just take extra time from you. But are we getting it right? Just give it thought for a second. What will you do if you achieve all your goals one day, you get admission to your dream college or get the job you dreamt of since childhood. But slowly, you find yourself exhausted easily. This is because you were so busy chasing after your dreams with all the energy you had and didn't look well after your health.
Your mind/brain becomes what you eat; if you are eating healthy, providing it with all the essential boost is a necessity. There are these which can keep your mind healthy. It can be good fats, Vitamin, iron, zinc, and many more. There are so many food options to choose from. From vegetables to meat, filter the food that contains any of these brain-boosting nutrition.
Proffer your brain with some naturally healthy food because that is the most suitable way to make the best out of it. One must take good care of both their body and brain. It will pay back, definitely.
Feel Free to contact me for book requests, informations or feedbacks.
Without You And Your Support We Can't Continue
Thanks For Buying Premium From My Links For Support