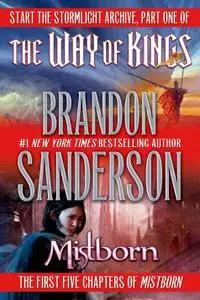 Brandon Sanderson Sampler
by Brandon Sanderson
English | EPUB | 16.2 MB
Brandon Sanderson is one of the most innovative and prolific authors writing today, and Tor Books is proud to share with you two of his most exciting series: The Stormlight Archive and Mistborn.
This electronic sampler contains part one of The Way of Kings, book one in The Stormlight archive, and the first five chapters of Mistborn, book one of the Mistborn series.
We hope that you'll enjoy this look into the rich imagination of #1 New York Times bestselling author Brandon Sanderson.At the Publisher's request, this title is being sold without Digital Rights Management Software (DRM) applied.