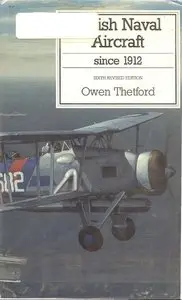 British Naval Aircraft Since 1912 By Owen Thetford
Publisher: US Naval Institute Press 1991 | 512 Pages | ISBN: 1557500762 | PDF | 51 MB
This sixth edition of the long-established standard work on British naval aircraft has been completely updated and consideral expanded, with much new information ever on the early aircraft involved. An historical summary of British naval aviation is followed by technical descriptions, service histories, squadron allocations, major operational events, illustrated by photographs, and a general arrangement drawing of each major type oflandplane, seaplane, flying-boat, or helicopter. This main section is followed by short descriptions and photographs of all other types used including rigid and non-rigid airships. Appendices include listings of naval aircraft strength, aircraft carriers, and other ships to which aircraft have been attached. The collection of the Fleet Air Arm Museum is presented in detail and there is a bibliography.
NO PASSWORD


!!!No Mirrors below, please! Follow Rules!