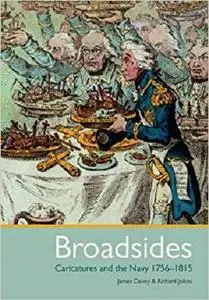 Broadsides: Caricatures and the Navy 1756-1815 by James Davey, Richard Johns
English | December 19, 2012 | ISBN: 1848321465 | 64 pages | EPUB | 23 Mb
Broadsides explores the political and cultural history of the Navy during the later eighteenth and early nineteenth centuries through contemporary caricature. This was a period of intense naval activity – encompassing the Seven Years War, the American War of Independence, the wars against revolutionary and Napoleonic France, and the War of 1812.
Naval caricatures were utilized by the press to comment on events, simultaneously reminding the British public of the immediacy of war, whilst satirizing the same Navy it was meant to be supporting.
The thematic narrative explores topics from politics to invasion, whilst encompassing detailed analysis of the context and content of individual prints. It explores pivotal figures within the Navy and the feelings and apprehensions of the people back home and their perception of the former. The text, like the caricatures themselves, balances humor with the more serious nature of the content.
The emergence of this popular new form of graphic satire culminated in the works of James Gillray and Thomas Rowlandson, both here well represented, but a mass of other contemporary illustration makes this work a hugely important source book for those with any interest in the wars and history of this era.