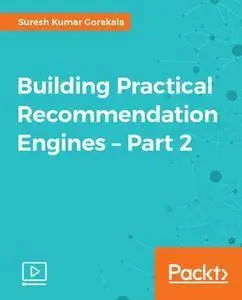 Building Practical Recommendation Engines – Part 2
HDRips | MP4/AVC, ~81 kb/s | 1280x720 | Duration: 02:12:31 | English: AAC, 128 kb/s (2 ch) | 521 MB
Genre: Development / Programming
Use behavioral and historical data to predict the future.
A unique guide that brings you unique projects that will enhance your skills with recommendation engines
Make insightful recommendations using various tools in the market
Filter information and build end-to-end recommendation engines with the help of Apache Spark, Neo4j, Python, R, and more
Recommendation systems allow you to gain insights into data and make a guess on what would be people's preference. It is used all over the web, be it shopping, social networking, or music. This video will teach you how to build unique end-to-end recommendation engines with various tools and enhance your skills.
You will look at various recommendation engines such as personalized recommendation engines, real-time recommendation engines, SVD recommender systems. You will also get a quick glance into the future of recommendation systems by the end of the video. During the course of the video, you will come across creating recommendation engines with R, Python, Apache Spark, Neo4j, Apache Mahout, and more. By the end of the course, you will also learn the best practices and tricks and tips to build efficient recommender systems.
Welcome to the best eLearning video (English, German, French, Spanish language) and many more:
LINK
Do not forget to check my blog! Updated regularly! Add in bookmarks my blog :)
PM me if Links not working!
No mirrors pls!