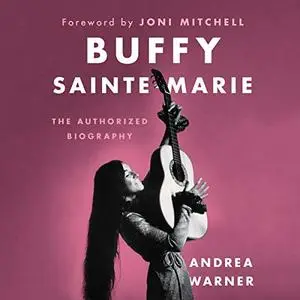 Buffy Sainte-Marie: The Authorized Biography [Audiobook] by Andrea Warner, Joni Mitchell
English | October 29th, 2018 | ASIN: B07JZH71C2 | MP3@64 kbps | 8 hrs 46 mins | 241.43 MB
Narrator: Andrea Warner, Buffy Sainte-Marie
Narrated by the author, with interludes narrated by Buffy Sainte-Marie. A powerful, intimate look at the life and music of a beloved folk icon and activist.
Folk hero. Songwriter icon. Living legend. Buffy Sainte-Marie is all of these things and more. In this, Sainte-Marie's first and only authorized biography, music critic Andrea Warner draws from more than 60 hours of exclusive interviews to offer a powerful, intimate look at the life of the beloved artist and everything that she has accomplished in her 77 years (and counting).
Since her groundbreaking debut, 1964's It's My Way!, the Cree singer-songwriter has been a trailblazer and a tireless advocate for Indigenous rights and freedoms, an innovative artist, and a disruptor of the status quo. Establishing herself among the ranks of folk greats such as Joni Mitchell and Bob Dylan, she has released more than 20 albums, survived being blacklisted by two US presidents, and received countless accolades, including the only Academy Award ever to be won by a First Nations artist. But this biography does more than celebrate Sainte-Marie's unparalleled talent as a songwriter and entertainer; packed with insight and knowledge, it offers an unflinchingly honest, heartbreakingly real portrait of the woman herself, including the challenges she experienced on the periphery of showbiz, her healing from the trauma of childhood and intimate partner violence, her commitment to activism, and her leadership in the protest movement.