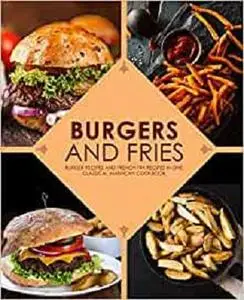 Burgers and Fries: Burger Recipes and French Fry Recipes in One Classical American Cookbook by BookSumo Press
English | July 8, 2019 | ISBN: 1078394482 | 193 pages | PDF | 5.92 Mb
A Guide to Delicious Burgers and Fries.
Come take a journey with us into the delights of easy cooking. The point of this cookbook and all our cookbooks is to exemplify the effortless nature of cooking simply.
In this book we focus on Burgers and Fries. The
Burgers and Fries
is a complete set of simple but very unique Burger and French Fry recipes. You will find that even though the recipes are simple, the tastes are quite amazing.
So will you join us in an adventure of simple cooking?
Here is a Preview of the Burger and French Fry Recipes You Will Learn:
Baby Cheddar Burger
Crunchy and Juicy Noodles Burgers
Rolled Kidney Bean Burgers
Jalapeno Fritos Burger
Grilled Mozzarella Burger
White Steak Burgers
Grilled Cottage Sandwich
Chili Romano Burgers
Dreamy Cheesy Burger
Braggs' Oat Burgers
Barbecue Oat Burgers
Hot Chili Braggs Burgers
Latin Salsa Burgers
Yoshida Burgers
Quaker Corn Burgers
Worcestershire Pastrami Burger
Jack's Hickory Jalapeno Burgers
Colorado Mountain Burgers
Hot Iceberg Chicken Burgers
Oregon Inspired Burgers
Queso Burgers
Sesame Burgers
Parmesan Sausage Burgers
Sesame Burgers
Juicy Beet Burgers
Feta Beef Burger
Mediterranean Sea French Fries
2-Ingredient Mexican Fries
Low-Fat Almost No Fat Fries
French Fries from Belgium
French Fries for July
Hot Pepper White Pepper French Fries
3-Ingredient French Fries
English Salt & Vinegar Fries
4-Ingredient Classicals
Parmesan Onions and Fries
Athenian Yukon Fries
Seasoned Crinkle Cuts
Fry 'Em Twice Fries
Georgia Backroad Fries
French Fry Dinner Bake
New Jersey Diner Style Fries
French Fries Forever
Simple Portuguese Inspired Fries
How to Bake French Fries
Elegant Truffle Oil and Parsley Fries
Louisiana Creole Fries
Easy Aztec Style Fries
Summer Safflower Fries
Indian Curry Cumin Fries
Cilantro Basil Rustic Sweet Potato Fries
Much, much more!
Again remember these recipes are unique so be ready to try some new things. Also remember that the style of cooking used in this cookbook is effortless. So even though the recipes will be unique and great tasting, creating them will take minimal effort!
Related Searches: burger recipes, burger cookbook, french fry recipes, french fry cookbook, burgers, french fries, burger recipe book
Feel Free to contact me for book requests, informations or feedbacks.
Without You And Your Support We Can't Continue
Thanks For Buying Premium From My Links For Support