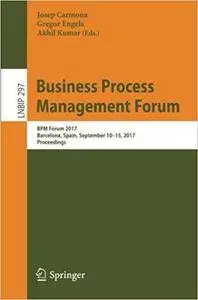 Business Process Management Forum: BPM Forum 2017, Barcelona, Spain, September 10-15, 2017, Proceedings by Josep Carmona, Gregor Engels, Akhil Kumar
English | 2017 | ISBN: 3319650149 | 193 Pages | PDF | 28.7 MB
This book constitutes the proceedings of the BPM Forum from the International Conference on Business Process Management, BPM 2017, held in Barcelona, Spain, September 2017.
The BPM Forum hosts innovative research which has a high potential of stimulating discussions. The papers selected for the forum are expected to showcase fresh ideas from exciting and emerging topics in BPM, even if they are not yet as mature as the regular papers at the conference.
The volume contains 11 full papers carefully reviewed and selected from 97 submissions. Each paper was reviewed by a team comprising of a senior PC and four regular PC members who engage in a discussion phase after the initial reviews were prepared. The authors eventually receive four review reports, and a meta-review that summarizes the reviews and the discussion.
The selected papers cover topics related to process models and metrics, mining and compliance, and to other innovative ideas such as gamification, smart devices and digital innovation as far as they pertain to BPM.