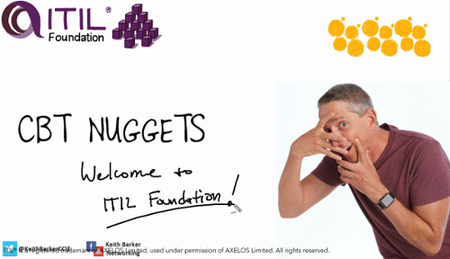 CBTnuggets - ITIL Foundation by Keith Barker
MP4 | AVC 500kbps | English | 1280x720 | 15fps | 6 hours | AAC mono 64kbps | 1.4 GB
Genre: Video Training
ITIL Foundation is an entry level certification and offers you a general awareness of the key elements, concepts, and terminology used in the ITIL service lifecycle, including the links between lifecycle stages, the processes used and their contribution to service management practices.
Target Audience
This certification is primarily aimed at:
Those who require a basic understanding of the ITIL® framework.
Those who need an understanding of how ITIL® can be used to enhance IT service management within an organization.
IT professionals or others working within an organization that has adopted and adapted ITIL® and who need to be informed about, or contribute to, ongoing service improvement.
However, the ITIL® Foundation level certification is open to and can benefit anyone who has an interest in the subject.
Recommended Experience
Exposure to IT
Recommended Equipment
No equipment necessary
Related Certifications
ITIL® Foundation certificate
Related Job Functions
IT management
Project lead
Service provider
IT support
Keith Barker has been a CBT Nuggets trainer since 2012, and has nearly three decades of IT experience. He holds a variety of certifications from Cisco, CompTIA, and more. His expertise areas include networking and security.
CBT Nuggets, through EXIN, is an AXELOS Accredited Training Organisation (ATO) for ITIL®. ITIL® is a registered trademark of AXELOS Limited, used under permission of AXELOS Limited. All rights reserved.
Content:
1. Welcome to ITIL Foundation Certification Prep (7 min)
2. Service Management Fundamentals (12 min)
3. ITSM Lifecycle Fundamentals (12 min)
4. Processes 101 (16 min)
5. Service Portfolios (10 min)
6. Financial Management (12 min)
7. Business Relationship Management (9 min)
8. Service Design Package (12 min)
9. Catalog Management (8 min)
10. Service Level Management (21 min)
11. Availability Management (13 min)
12. Capacity Management (10 min)
13. IT Service Continuity Management (ITSCM) (13 min)
14. Information Security (7 min)
15. Supplier Management (7 min)
16. Service Transition Overview (8 min)
17. Configuration Management (15 min)
18. Change Management (17 min)
19. Release and Deployment (13 min)
20. Knowledge Management (11 min)
21. Transition Planning and Support (5 min)
22. Service Operation Overview (15 min)
23. Service Desk Function (7 min)
24. Event Management (8 min)
25. Incident Management (15 min)
26. Problem Management (10 min)
27. Access Management (6 min)
28. Request Fulfillment (5 min)
29. Continual Service Improvement: Overview (10 min)
30. The Deming Cycle (4 min)
31. 7-Step Improvement Process (12 min)
32. Roles (8 min)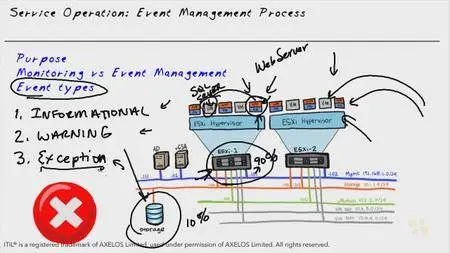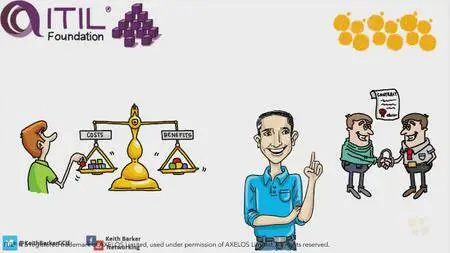 No mirrors please