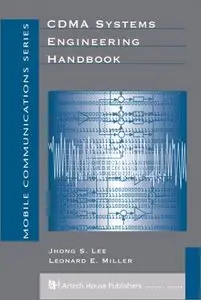 Jhong Sam Lee, Leonard E. Miller, "CDMA Systems Engineering Handbook"
Artech House Publishers | 1998 | ISBN: 0890069905 | 1228 pages | Djvu | 6,7 MB
Review:
Great CDMA (IS-95) Reference Book
This book was not intended as a communication theory text, but it does a great job of providing the basic results in an organized fashion. It serves as a good reference for me for CDMA related issues, or channel models and fading/diversity analysis.
Definitely recommend the book if you can find one at a decent price. Five stars is granted for the reference use of this book, this should not be a first timers' textbook.
Artech House books are usually packed with errors, since there is no serious review process. But refreshingly this book does not come with a big pack of errata despite the large content. Congradulations to the authors…
Not all books on AvaxHome appear on the homepage.
In order not to miss many of them follow
ebooks section
(see top of each page on AH)
and visit
my blog
too :)
NO MIRRORS according to the rules