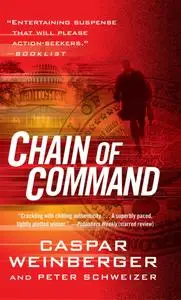 Chain of Command
by Caspar Weinberger, Peter Schweizer
English | EPUB | 0.5 MB
In this riveting novel by two of Washington's ultimate insiders, the chain of command is threatened when political power is bought in blood.
Secret Service Agent Michael Delaney has devoted his entire career to protecting America's highest ranking elected officials. But when his gun is found next to the bloody corpse of the President of the United States, he becomes the prime suspect in a brutal assassination that stuns the nation. As the vice president assumes control of the shaken government, a series of violent terrorist attacks is launched in cities across America, causing the government to take ever more desperate steps to keep the population safe. Shockingly, the resourceful enemy they are fighting comes not from another country but from within America's borders.
Unsure who he can trust, Delaney finds an unexpected ally in Mary Campos, the president's newly appointed terrorism czar. With each passing hour, the potential for catastrophe grows and the web of evidence implicating Delaney in the plot grows more convincing. It will take all his cunning and years of special training to find out who is framing him for the murder of a president. Not only are his reputation and liberty at stake but the liberty of all Americans.
Former Secretary of Defense Caspar Weinberger and acclaimed writer Peter Schweizer take readers deep inside the U.S. government's secret halls of power. From the Pentagon to Camp David, from the White House Situation Room to the inner sanctums of the FBI, the authors share their intimate knowledge of Washington's behind-the-scenes world to spin an explosive tale of intrigue that is chillingly real and breathtakingly suspenseful.