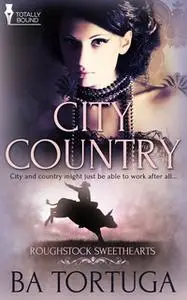 «City Country» by B.A. Tortuga
English | ISBN: 9781784307233 | EPUB | 0.4 MB
Traditional cowboy Cotton and tattooed Emmy couldn't be more different. Thats part of their attraction, but different worlds can make for a lot of heartache. Emmy doesn't really like cowboys. She might be from Texas, but she's a city girl, truly invested in keeping Austin weird, just like the slogan says. With her corsets and tattoos, she stands out at the western bar where she ends up after being abandoned by her friends. That might be why she catches the attention of Cotton, whos a bull rider by trade, and definitely a cowboy. Cotton thinks Emmy might be the most fascinating girl he's ever met. She's not a cowgirl, and she's not model skinny, but she's beautiful and smart and he wants her like he's never wanted anything before. As one date turns into months of seeing each other in between bull riding events, Cotton starts to think that Emmy is the all-important One. Cottons friends and family might not be so sure, though. As Emmys life starts to unravel around her, Cotton has to fight his fears and his confusion to prove to Emmy that city and country might just be able to work after all.