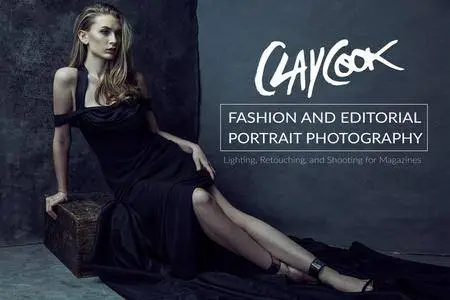 Clay Cook's Fashion and Editorial Portrait Photography
HDRips | AVI/XviD, ~3006 kb/s | 1920x1080 | Duration: 11.5 hours | English: MP3, 317 kb/s (2 ch) | 17.8 GB
Genre: Photo
After beginning his career by building elaborate photography sets and lighting setups in his living room, Clay Cook now shoots fashion and editorial spreads all around the world. Contrary to most photographers, Clay learned to shoot his first images using only artificial light and only later incorporated natural light into his work. This has given him a broad understanding of how to shape the lighting from any scene into a beautiful image.
Fstoppers.com has teamed up with Clay Cook to produce Fashion and Editorial Portrait Photography, an 11.5 hour long video tutorial on how to photograph high-end fashion and editorial pictures. In this video tutorial Clay explains everything about the workflow and techniques he uses to create his brilliant images. The tutorial is broken down into a progression of simple to complex lighting and shooting lessons. Whether you're just getting into editorial photography or are already a professional in this field, the scope of Clay's lessons provide plenty to learn from.
In addition to covering his shooting techniques, every lesson comes with image files which let you follow along with Clay and his high-end retoucher, Jordan Hartley, as they retouch every final image from each lesson. Not only does he cover his shooting and retouching techniques, Clay also covers the gear he uses, set creation, collaborating with teams, and the business side of booking editorial and commercial jobs.
Kelby Training Collection
The Complete Guide To Composit...olor, & Composition (2015)
The 5 Day Deal Photography Bundle III
Digital Photoshop High-End Retouching Tutorial Videos & Services
Erik Almas - On Aspects of Image Making
Shooting Glamour Instructional
WedFilm Academy - Cinematic Wedding Film Tutorials
Everyday Photoshop: From Workflow to Smartflow
Nikon School - Fast, Fun & Easy Great Digital Pictures
Nikon School - Understanding Digital Photography
Photoshop Retouching Techniques: Skin
OneLight Photography Workshop
Photoshop: Content-Aware & Cloning
Karl Taylor - How To Use Your SLR Camera For Full Creative Control
Retouching & Photoshop Techniques
Matt Garrett - Photoshop Masterclass (with bonuses)
The 5 Smart Photoshop Tips and Tricks
Your First Day with Photoshop CC
Adventure Photography: Capturing In-Between Moments
Fashion Photography Exposed
Working with Models
Working with Hair and Makeup
Inside The Glamour Studio
Mastering Color with Ben Willmore
Children's Portrait Photography with Tamara Lackey
Glamour Photo Retouching Techniques
Advanced Lighting for Food Photography
Senior Photography: Break the Mold
Pets and People Photography
AWAI Photography - Turn Your Pictures Into Cash
Zombie Photo Manipulation Techniques in Photoshop
Lightroom 5 Crash Course
Lightroom 5 In Depth: Editing Your Photos
Lightroom 5 Killer Tips
Fundamentals of Photography II
10 Things Every Photoshop Designer Should Know
Lightroom CC Complete Training
Photoshop In-Depth: Mastering the Composition
Add a Splash to Your Photos Using Photoshop
Photoshop fur Fotografen - Schritt fur Schritt zu perfekten Fotos
Lightroom CC Killer Tips
Mastering Smart Collections in Lightroom CC
Using Lightroom Mobile in Lightroom CC
Studio Product Photography Essentials
DOP216: Lighting People, Products and Cars
DOP219 Lighting with Natural Light
DOP220: Making a Dramatic Difference
Adobe Lightroom CC: Photo Editing Masterclass
PHOTOGRAPHY MASTERCLASS: Learn the secrets of portrait editing
Photoshop For Beginners 101
Shooting the Purrfect Pet Portrait
Adobe Photoshop CC For Photographers
Learning Adobe Photoshop CC
How to Use Photos for Mac
Welcome to the best eLearning video (English, German, French, Spanish language) and many more:
LINK
Do not forget to check my blog! Updated regularly! Add in bookmarks my blog :)
PM me if Links not working!
No mirrors pls!