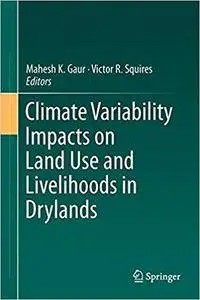 Climate Variability Impacts on Land Use and Livelihoods in Drylands by Mahesh K. Gaur, Victor R. Squires
English | 2018 | ISBN: 3319566806 | 348 Pages | PDF | 16.8 MB
This edited volume is devoted to the examination of the implications of the inevitable changes wrought by global change on the welfare and livelihoods of tens of millions of people who live in dryland regions. Global change is more than just climate change and the ramifications of changing trade patterns (geopolitical and economic aspects), the shift to the market economy, demographic factors (population growth, urbanization and re-settlement), receive attention here. Land use change specialists, policy makers and natural resource management agencies will find the book very useful.
Chapters focus on examples that are drawn from a number of sources including previously unpublished studies on the impact of climate change, markets and economics on pastoralist and dryland farming households. The key focus is to provide readers with insights into the real world implications of change (including an analysis of the drivers of change) on these vulnerable groups within dryland societies. The role of humans as agents of these changes is canvassed. A regional analysis of the world's drylands is also performed including those in Australia, Argentina, India, North America, China, North Africa, Central Asia and Southern Africa.