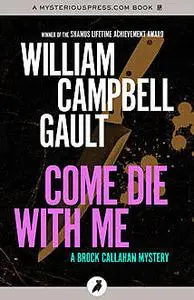 «Come Die with Me» by William Campbell Gault
English | EPUB | 0.4 MB
Brock gets caught in a dangerous triangle between a jockey, a mobster, and L.A.'s finest blonde.
Gloria Malone is a big woman with a little husband, and a problem only Brock Callahan can solve. Her jockey beau, Tip, has fallen in with a half-reformed gangster, and Gloria fears trouble for the pint-sized horseman. But as Brock quickly finds, L.A.'s criminals have more to fear from Tip than he does from them. The short man has a long mean streak, a girl on the side, and a couple of illegitimate children to boot. Even his horses don't like him. Brock isn't surprised when someone decides to end the little gremlin's racing career once and for all — with a carving knife.
The world of horse racing is buried under a layer of grime that's thicker than the Santa Anita racetrack's mud after a thunderstorm. To penetrate it, Brock will have to take the whip into his own hand and do whatever it takes to stay on the horse.