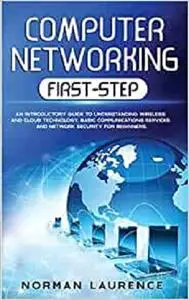 Computer Networking First-Step: An Introductory Guide to Understanding Wireless and Cloud Technology, Basic Communications Services and Network Security for Beginners by Norman Laurence
English | November 26, 2020 | ISBN: 1914203178 | 154 pages | EPUB | 0.85 Mb
If you want to know the basics of wireless technology and how you can set up networks and solve the security threats,
then keep reading…
Whether you want to know how to build a large network or a small one, you always have to start from the basics and this book is full of information in this respect.
Anything and everything that you need to know about the world of wireless networks is present in this book
.
The book has been written keeping in mind all the latest upgrades so that you can stay updated on the facts. It has been composed to serve as a comprehensive guide for all beginners.
In this book, you will find that there is a gradual progression towards the more technical aspects of the wireless network so that you can develop a good grip on the preliminary subjects before moving into the depths.
Here is a summarized version of all the key points which have been mentioned in this book:
Different aspects of wireless networks, their applications, and importance
A brief introduction to the world of internet
Ways in which you can deal with the common security threats and troubleshooting your Wi-Fi connection
Strategies to secure your network from all types of breaches
Some common types of wireless networks
Even if you are not aware of the basics, don't worry as this book is meant especially for the first-timers and you will start knowing everything right from the beginning. So, stop stressing as all you need to do is take the first step and everything will be laid out in front of you.
Now, it's time for you to gear up and brush up on your computer networking skills. All the basic terminologies have been explained too and so there is nothing to feel intimated about.
Feel Free to contact me for book requests, informations or feedbacks.
Without You And Your Support We Can't Continue
Thanks For Buying Premium From My Links For Support