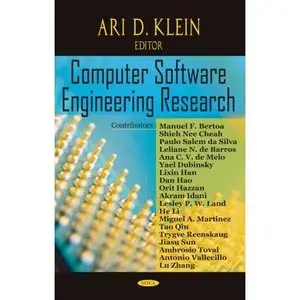 Ari D. Klein, "Computer Software Engineering Research"
Nova Science Publishers | 2008 | ISBN: 1600217745 | 217 pages | PDF | 8,2 MB
Computer hardware continues to get smaller and computer software continues to get more complicated. Computer programming (often shortened to programming or coding) is the process of writing, testing, and maintaining the source code of computer programs. The source code is written in a programming language. This code may be a modification of existing source or something completely new. The process of writing source code requires expertise in many different subjects, including knowledge of the application domain and algorithms to implement the desired behaviour. Within software engineering, programming (the implementation) is regarded as one phase in a software development process. This book presents new leading-edge international research in the field.
Only

ONE (1)

RS mirror, please